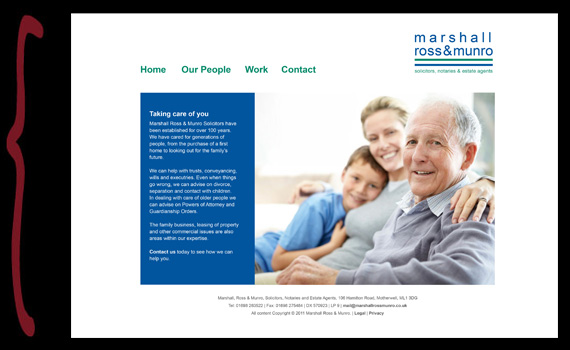 Marshall Ross & Munro
With 100 years of history behind them Marshall Ross & Munro Solicitors is a well established firm in the Motherwell area.
When it came to creating their website they wanted a fresh approach. The concept draws on the generations of family members that they've helped over those years but the images are light and bright to keep it firmly in the present.
"The service that designjr provided was superb and very professional. The website that she created for us is exactly what we needed." Charles Bow, Marshall, Ross & Munro
designjr is a subsidiary of Intent Consulting (Scotland) Ltd | Company No. SC 383807| info@designjr.co.uk
All content Copyright © 2012 designjr | Legal | Privacy